Mark Your Calendars!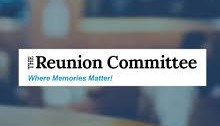 ---
Dinner at TJ Chumps (for anyone) on Dayton-YS Road at 6:00. Please RSVP to Denise Derge.
---
Reunion Committee meeting will be held Tuesday, September 29th at 7:00 P.M. at the Central Ave. Church of Christ, 922 S. Central Ave. Fairborn.
---
Sharon Weiss Gallery, 20 East Lincoln, Columbus OH 43215 614-371-9156
September's featured artist: Jim Murrin
(Jim speaking) My early years were spent living near Yellow Springs, Ohio; my mother was a graphic artist and my father an aeronautical engineer. As a family we would often go to exhibits of modern art at Antioch College. The paintings I saw there made an indelible impression. I later studied photography, design, and drawing in college, but pursued dentistry as a career. I was a dentist in the USAF for several years before opening an endodontic practice in Upper Arlington, while on the side, providing endodontic care for gorillas, tigers, and bears, at the Columbus Zoo and Aquarium. My art interest resurfaced in the early 1990's and I enrolled at the Columbus College of Art & Design to study painting. Early influences were David Hockney and Edward Hopper. I devoted several years to plein air painting on Monhegan Island, Maine and in coastal northern California. Over time my work became more studio-based and graphic in style, perhaps recalling some of my mother's early work in outdoor advertising. My paintings emphasize structure, saturated color, and contrast of light and shadow. My paint box has grown from oil-only to include acrylic paint, water soluble wax crayon, pencil, and epoxy. Skip ahead 43 years; I've transitioned from dentistry and I am more passionate about painting than ever. Painting for me is meditation, an effort to understand myself and my world. I see the painting process as a method of getting closer and closer to the essence. September, 2020 brings my fourth solo exhibit of paintings back to Sharon Weiss Gallery
Paintings - Latest Works
September 4-26
Gallery hours:
TH 12-4
Fri+Sat 12-5
Sun 1-4
---
Please call 614-291-5683 for inquires.
Www.jimmurrinart.com
Www.sharonweissgallery.com
---
50th Reunion: Save The Dates!
August 27-29, 2021
---
Friday Night: Choose one, two or all.
5:00 PM School Tour with Pat (Skeeter) McCoart.
7:00 PM Home football game versus Tecumseh (we think). Class will buy tickets.
And/or
6:00 PM and later. Gathering at T. J. Chumps. 100 East Dayton-Yellow Springs Road.
Party Room and Outside Area. Everyone on their own. Come after the football game.
---
Saturday Night:
Beavercreek Golf Club 2800 New Germany Trebein Rd, Beavercreek, OH 45431
6:00 PM Buffet and Dancing, Prizes and General Mischief!
PLEASE! Casual is just fine at this venue. Patio open.
Cash Bar. Cost TBD.
---
Sunday:
Committee working on a brunch. TBD. On your own.
There are other things TBD, but that will come later.
---
New Feature!
The top left tab is marked CALENDAR. This is where you can find Giovanni's events, reunion committee meetings, and eventually due dates for the reunion. This calendar is tied to Denise's Google calendar so she must add events. If you want something added, just drop her a line. Check back often and you will never miss anything.
---
Welcome to the Official Site of the Fairborn High School Class of 1971!
To protect our classmates and guests, you must set up a profile, which is as easy as A B C. To gain access to all the features of this website, you register and create your own personal password. It's easy, free and secure. Find your name under Flyer Profiles at the top of the page, click on your name and follow the prompts!
Guests from other years, please use the Contact Us form to request access. Include your name (ladies, add your maiden name) and your class year.
You may also get more information about other functions of the site on the link "How to Use This Site ". Terms of Use are found here.
---
186,094 Exact number of visits to our Home Page since we went live Nov 2, 2009. Each person is counted only once per 24-hour period. Thank you for supporting our Class of 71 website, not only financially, but keeping our website easy to find on Google. If former schoolmates want to find us, they can!
ANNOUNCEMENTS
STEVE FOWLER:
Just to let everyone know. My wife and I have retired, again, to our lake house in east central Michigan. We will begin traveling in August and be spending part of the year(s) at our place in Colorado and the rest traveling and our home in National City, MI. We'll keep you updated.