Fairborn High School Class of 1971
NEW INFO on the What's New tab.
---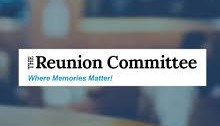 ---
Good Day Classmate!
We had a good meeting at my (Denise's) house on Saturday June 22nd. We batted around some ideas for our 50th Reunion, and fundamentally came up with what we DON'T want, so that gave direction as to what we DO want! We had seven people there, and while we certainly need more people to make this happen, it was enough to get a "group think," along with the feedback from some letters and the survey on the site. There are many things that people want to come back to Fairborn to see, and we need point people for those types of activities; we need folks with a flair for decorating, putting together prizes (prize baskets from classmate businesses are very welcome as long as we consider the ability for the contents to travel), as well as other talents.
We plan two completely different evenings, in hopefully different venues and we are trusting in a tour of the present Baker High School!
We won't be meeting again until early 2020; but some of us are doing covert research "as we go" in our lives. I encourage you to make time to help. Some jobs are labor intensive, but not all of them are. We want to use people's talents! Maybe you can do just that one thing that will make something special!
And if you can't physically do something, all donations will go to make the Reunion outstanding! And P.S., there are tons of ideas on Pinterest!
---
Welcome to the Official Site of the Fairborn High School Class of 1971!!!!
To protect our classmates and guests, you must set up a profile, which is as easy as A B C. To gain access to all the features of this website, you register and create your own personal password. It's easy, free and secure. Find your name under Flyer Profiles at the top of the page, click on your name and follow the prompts!
Guests from other years, please use the Contact Us form to request access. Include your name (ladies, add your maiden name) and your class year.
You may also get more information about other functions of the site on the link "How to Use This Site ". Terms of Use are found here.
---
165,667 Exact number of visits to our Home Page since we went live Nov 2, 2009. Each person is counted only once per 24-hour period. Thank you for supporting our Class of 71 website, not only financially, but keeping our website easy to find on Google. If former schoolmates want to find us, they can!