Class of 1971
Fairborn

High School

Flyers
It's Autumn!!!
---
Mark Your Calendars!
Upcoming Events!
October Giovanni's Lunch: Wednesday 21st at 12:30 PM.
November Giovanni's Lunch: Wednesday 18th at 12:30
Christmas Party. Friday, December 11th 6:00 PM
---
Save the Date - 45th Reunion!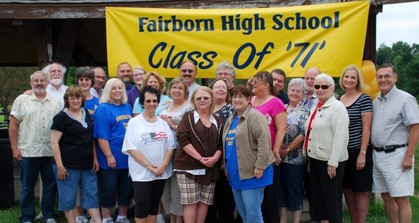 July 28-31, 2016
Thursday Evening: T.J. Chumps at 7:00 PM (if interest)
Friday Evening at Hilton Garden Inn 6:00 - 11:00 PM
Saturday Lunch at Giovanni's. Noon. TBA as they don't have a 2016 book yet!
Saturday Evening Hilton Garden Inn 6:00 - 11:00 PM
Sunday: Brunch at Hilton Garden Inn: Time TBD
---
---
Welcome to the Official Site of the Fairborn High School Class of 1971!!!!
To protect our classmates and guests, you must set up a profile, which is as easy as A B C. To gain access to all the features of this website, you register and create your own personal password. It's easy, free and secure. Find your name under Flyer Profiles at the top of the page, click on your name and follow the prompts!
Guests from other years, please use the Contact Us form to request access. Include your name (ladies, add your maiden name) and your class year.
You may also get more information about other functions of the site on the link "How to Use This Site ".
---
Classmate Jim Murrin has an art exhibit at the Ohio State Faculty Club, November 2 - December 17, 2015. The Opening Reception will take place November 6 from 6-8 PM. All the pertinent information is at this link. More about Jim Murrin at http://www.jimmurrinart.com/
---
87404 Exact number of visits to our Home Page since we went live Nov 2, 2009. Each person is counted only once per 24-hour period. Thank you for supporting our Class of 71 website, not only financially, but keeping our website easy to find on Google. If former schoolmates want to find us, they can!
---
Terms of Use:
This site is intended to be welcoming to all classmates and approved guests. Therefore, all members of this site are expected to abide by the following:
By using the FHS Class of 1971 Website, you agree to the following terms of use:
No threatening or harassing communications will be sent to other classmates.

If I receive any communications that are improper, I will contact the Site Administrator.

I will not post obscene, vulgar, or crude photos.

I will not use obscene, vulgar, crude, or offensive language.
Any classmate or approved guest may be removed from this site due to one or more of the above violations. This action may be reported by another classmate, if not found by the Site Administrator. A member may be 'locked out' while the Site Administrator confirms the violation. If a reported violation is found to be false, the member's log-in will be restored.
---
To our visitors:
Are you interested in creating a website from ClassCreator.com? If you click this link, the Class of 1971 will get a referral check for $50. If you then create your site, you can also have your own special link for referrals. We think it's a great product and highly recommend this to anyone thinking about this. Contact Us if you have further questions. We were helped and we will pay it forward.
UPCOMING BIRTHDAYS