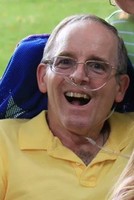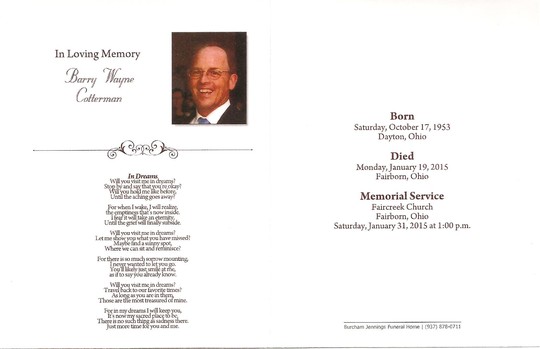 Barry W. Cotterman, age 61 of Fairborn, OH, passed away Monday, January 19, 2015, at his home after a lengthy battle with ALS (Amyotrophic lateral sclerosis). He was born October 17, 1953, Dayton, OH, to parents, Wilbur and Kathleen Byers Cotterman. He was predeceased by his parents; sister, Karen S. Cotterman Ledbetter; and granddaughter, Makenzie Grace Cotterman.
Surviving are his beloved wife of 33 years, Melinda Lykins Cotterman of Fairborn, OH; two devoted sons, Chris (Jennifer) Cotterman of New Carlisle, OH; Craig (Jenica) Cotterman of Oreana, IL; and cherished and only daughter, Brandy R. Cotterman (Jeremy) Lay of Mansfield, OH. Also surviving are his sister, Connie (Jim) Bittner of Enon, OH; brother-in-law, Larry (Dianne) Ledbetter of Concord, NC; ten grandchildren, Courtney, Maddix, Emily, Capri, Conor, Gabrielle, Cooper, Brennan, Orion, and Maia; and numerous nieces and nephews.
From 1972-2005, Barry was employed by General Motors, retiring as a group leader. He was a faithful member of Faircreek Church, Fairborn, OH. A certified scuba diver, he was an avid drag racer at Kil-Kare Speedway for 14 years and enjoyed camping with family and friends, traveling, water-skiing, and biking.
With his infectious smile and determined spirit, Barry was an inspiration. Active in fund-raising and increasing awareness for The ALS Association, Barry was an amazing husband, warm and loving father, doting grandfather, loyal brother, dedicated uncle, and trusted friend.
The family wishes to extend a special thank you and deep appreciation to the individuals at Hospice of Dayton, The ALS Association-Central and Southern Ohio Chapter, and Burcham Jennings Funeral Home. In lieu of flowers, donations in Barry Cotterman's memory made be made to the following:
BARRY'S BACKERS
The ALS Association
Or
In Memory of Barry Cotterman
The ALS Association Central and Southern Ohio Chapter
1170 Old Henderson Road, Suite 221
Columbus, OH 43220
(614) 273-2572
(866) 273-2572
CELEBRATION of LIFE: Saturday, January 31, 2015, 1:00 p.m.
Faircreek Church
2400 Faircreek Ridge Drive
Fairborn, OH 45324
(937) 879-1598
This is the bucket challenge we did in Late August 2014. We had fun that day!