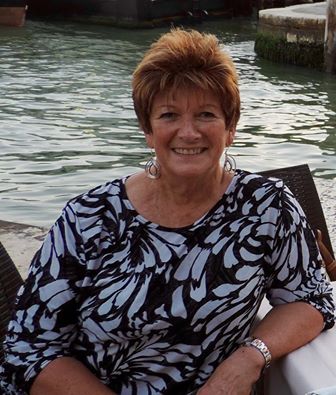 JOYCE FAYE (nee Laymon), lived at sea with Royal Caribbean, formerly of Solon and Fairborn, Ohio. January 6, 1953 -- August 24, 2016. Beloved daughter of Nancy (nee Phillips) and the late Eddie Laymon; loving sister of Linda Laymon, Vickie Harris, and Larry Laymon; cherished aunt of Greg Harris and Dustin Harris. Family will visit with friends at STEINBAUER FUNERAL HOME, 33375 BAINBRIDGE RD., SOLON FROM 5-7 PM MONDAY, AUGUST 29. Interment Byron Cemetery, Fairborn, Ohio. (from hometown newspaper)
---
Joyce Laymon Faye, age 63, formerly of Fairborn, OH, and Solon, OH, was born January 6, 1953, in Dayton, OH. The beloved daughter of Nancy Phillips Laymon and the late Eddie Laymon, Joyce entered her eternal home Wednesday, August 24, 2016. She lived onboard Royal Caribbean Cruise Lines where she was a Training and Development Officer.
She is survived by two sisters, Linda Laymon and Vickie Harris (FHS-69); one brother, Larry Laymon (PH-79); two nephews, Greg Harris and Dustin Harris; extended family members; and friends around the world. An outgoing, friendly and adventurous person, Joyce loved the ocean and enjoyed meeting people wherever her travels took her. Her smiling face and positive outlook on life will be greatly missed.
In lieu of flowers, the family requests that gifts in memory of Joyce be made to the following: Mayo Clinic Pancreatic Cancer Research Department of Development 200 First Street SW Rochester, MN 55905 www.mayoclinic.org/development
VISITATION: Wednesday, August 31, 2016, 5:00 p.m.-7:00 p.m. Belton-Stroup Funeral Home 422 E. Dayton-Yellow Springs Road Fairborn, OH 45324 (937) 879-0800
SERVICE: Thursday, September 1, 2016, 11:00 a.m. (with Rev. Ron Plemons) First Baptist Church of Fairborn 1167 Highview Drive Fairborn, OH 45324 (937) 878-8629
INTERMENT: Byron Cemetery 3256 Trebein Road Fairborn, OH 45324 (937) 878-9700
Condolences: http://www.beltonstroup.com/FayeJoyce.htm
.