Betty Ruth Jones Tippin March died on Tuesday, November 1st, 2016 of liver cancer. Her second husband, Harold preceded her in death on the previous Friday, October 28, 2016 from injuries sustained in a fall. Betty attended Anderson College in Anderson Indiana (Church of God) and served as a minister for many years. She had twin children, Stella Malpica and John Tippin. She is survived by them, her grandchildren, and step children and step grandchildren, as well as her siblings.She was married to Ken Tippin and he died suddenly in 2001. She married Harold in 2006 (much of this is on his obituary on the Family Obituary tab). She had liver cancer, beat it and it returned. She fought the good fight. Family viewing will be Saturday, November 5th at 11:00 at Four Winds Community Church in Marshall, MI. The service will follow at noon.
If a true obituary is posted, I will add it here. People are welcome to "fill in the blanks" in the comments section. Below is a fairly recent picture of Harold and Betty Ruth with her sister Belinda and her husband Peter.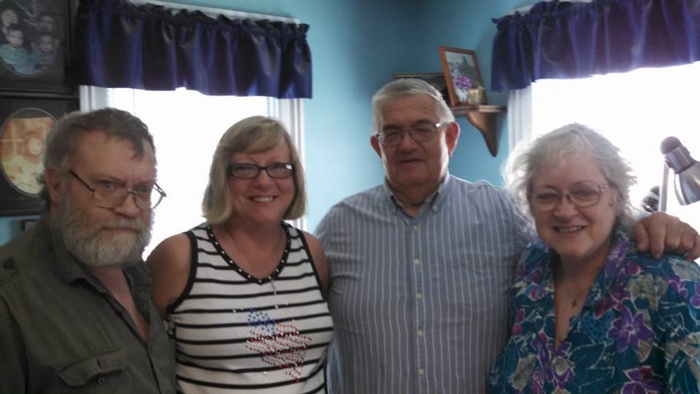 This is from Ruth's daughter Stella and was published in the Marshall Advisor-Chronicle:
Betty Ruth was born May 17, 1953 in Dayton, Ohio to William Ralph and Laura May (Christman) Jones, the second of seven children. Betty Ruth was raised in Fairborn, Ohio and was president of her high school Latin Club and graduated from Anderson University with her B.A. in History and Christian Ministry in 1975 and with her M.A. in Christian Education in 1978. She served in the Church of God (Anderson, IN) in various churches in Iowa, Illinois, Maryland and Michigan over 40 years.
Betty Ruth married Kenneth Richard Tippin on October 8, 1983. After his death in 2001, she married Harold James March on March 25, 2006. Surviving are her son, John Robert Tippin; her daughter, Stella Ruth Tippin de Malpica; her son-in-law, William David Malpica; stepchildren, Heather March, Corey March and Joshua (Debbie) March; brothers, William (Katherine) Jones, Gary (Kristina) Jones, Anthony Jones and Keith Jones; sisters, Belinda (Peter) Armey and Barbara (Donald) Triest. Betty Ruth is preceded in death by her parents; her first husband, Ken; and her second husband, Harold.
Betty Ruth was a minister of Four Winds Christian Fellowship in Marshall. She served in many ways, especially counseling and teaching. She was the person her loved ones went to with any problem to receive unconditional love, prayer and a practical, Scripture-based solution. Betty Ruth's friends remember her for her wisdom, humility, patience and faith. Betty Ruth loved singing, studying the Bible, gardening, reading mystery novels and learning in all its forms. She was a creative person who loved all forms of art, especially writing and quilting.
Friends will be received at a visitation 11a.m. Saturday followed by a memorial service at noon at Four Winds Christian Fellowship, 310 East Green Street, Marshall, Michigan.